Pittsburgh, Pennsylvania, is known for its rich history, stunning architecture, and thriving cultural scene. The city boasts an impressive array of museums, art galleries, and theaters that showcase its vibrant and diverse culture. Here are some of Pittsburgh's top cultural gems that should be on every visitor's must-see list.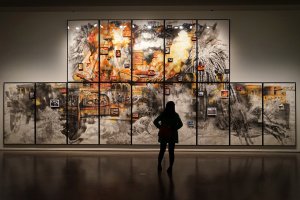 Pittsburgh's Cultural Gems
Carnegie Museum of Art: A Haven of Masterpieces
One of the most popular cultural attractions in Pittsburgh is the Carnegie Museum of Art. The museum is home to an extensive collection of American and European art, including works by Van Gogh, Monet, and Degas. The museum also hosts several temporary exhibitions throughout the year that showcase contemporary and emerging artists from around the world.
Andy Warhol Museum: Celebrating Pop Art and Beyond
Another must-visit museum in Pittsburgh is the Andy Warhol Museum, which is the largest museum dedicated to a single artist in North America. The museum houses an extensive collection of Warhol's works, including his famous Pop Art pieces, as well as his lesser-known film and video works. The museum also hosts regular exhibitions featuring the work of other contemporary artists.
Heinz History Center: Unveiling Western Pennsylvania's Past
If you're interested in history, the Heinz History Center is a must-see attraction in Pittsburgh. The museum is dedicated to the history and culture of Western Pennsylvania, with exhibits that cover everything from the region's early Native American inhabitants to its role in the American Civil War and beyond. The museum also hosts several rotating exhibits that showcase various aspects of the region's rich history.
Theaters: A Stage for Unforgettable Performances
For theater enthusiasts, Pittsburgh is home to several world-renowned theaters. The Benedum Center for the Performing Arts is one of the city's most iconic theaters, with a stunning interior that features ornate plasterwork and a crystal chandelier. The theater hosts a variety of performances throughout the year, including Broadway shows, operas, and ballets.
Pittsburgh Public Theater: A Legacy of Stage Excellence
Another notable theater in Pittsburgh is the Pittsburgh Public Theater, which has been producing high-quality theater productions for over 40 years. The theater is located in the heart of downtown Pittsburgh and features a state-of-the-art mainstage theater as well as a smaller, more intimate performance space. The Pittsburgh Public Theater produces a variety of plays throughout the year, ranging from classic works to contemporary productions.
Art Galleries: Showcasing Creativity and Innovation
Pittsburgh also has a thriving art scene, with numerous galleries showcasing the work of both established and emerging artists. The Mattress Factory is one of the city's most unique art spaces, featuring large-scale installations and contemporary art exhibits in a former mattress factory building. The gallery also hosts regular artist residencies, which allow visitors to see the creative process firsthand.
Carnegie Museum of Natural History: Exploring the Natural World
Another notable art gallery in Pittsburgh is the Carnegie Museum of Natural History, which features a variety of exhibits showcasing the natural world. The museum's collection includes fossils, minerals, and other specimens, as well as exhibits that showcase the diversity of life on Earth.
Conclusion
In conclusion, Pittsburgh's cultural scene is thriving, with an abundance of museums, art galleries, and theaters that showcase the city's vibrant and diverse culture. Whether you're interested in history, art, or theater, there is something for everyone in Pittsburgh. So, the next time you're in the area, be sure to check out some of these top cultural gems and experience the best that Pittsburgh has to offer. And if you find yourself in need of legal assistance while in Pittsburgh, don't hesitate to contact Pittsburgh Injury Lawyers, P.C. They are dedicated to providing top-notch legal representation to those who have been injured due to the negligence of others. Click here to learn more about their services and how they can help you.