A car accident outside of your home state may be a terrifying experience. Besides the mental and physical trauma of the accident, you're also in a foreign place. You'll likely have a swarm of questions running through your head at the exact moment. Pittsburgh car accident lawyers provide you with detailed information as to what to do when you are involved in a car accident in a different state than where you live.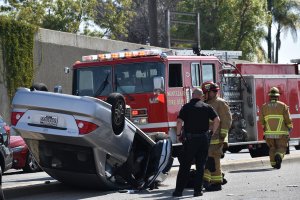 Can You Tell Me About My Policy?
To avoid unnecessary anxiety about your auto insurance not covering you when traveling outside of your state of residence, know that your current policy will most likely protect you wherever you go. Most car insurance policies cover you in all 50 states and the U.S. Virgin Islands. Specific insurance policies cover even provinces in Canada.
If you're planning a cross-state road trip, it's always a good idea to consult with a knowledgeable attorney to ensure that you're covered. If you're planning on traveling to Mexico or another South American country from the United States, use caution and check with your insurance company first.
Car accidents outside of your home state may feel like isolated incidents, but they are relatively common and may happen at any moment. As a result, car insurance providers have simplified the process for specific situations. As a result, if you are involved in an accident outside of your state of residence, your insurance coverage will be changed accordingly.
In the event of an accident in Pennsylvania, while driving in a state with lower liability limits than your own, such as Georgia, your insurance coverage will not be decreased to meet the bare minimum required by Florida law. Even if it goes above and above the state's minimal standards, your policy's coverage will be given to you.
Is the State "Fault-Free" if it's not?
In one of 12 no-fault states, Pennsylvania's injury protection (PIP) would compensate for a driver's injuries regardless of who was at fault. Personal injury protection (PIP) coverage of at least $10,000 is required for all Pennsylvania drivers. You will receive the same PIP benefits in a no-fault state as you would in your home state if you get into an accident there.
In states without a no-fault system, like California, accident victims will have their injuries covered by the negligent driver's insurance, not PIP. If you're driving through Georgia, a "fault" state and a reckless driver hits you; the negligent driver will be held accountable for your injuries and damages. The case would be handled per Georgia law, and the at-fault driver's insurance would cover medical expenses and lost wages.
Even though Florida is an at-fault jurisdiction, the insurance of a Georgia driver who is struck by a Florida driver in a no-fault state like Georgia is required to provide the bare minimum PIP coverage required by Florida law. Despite the fact that each case is unique, it is a general rule that the state where the accident occurred will have authority over the minimum liability coverage, culpability, and even the statute of limitations.
Considerations for No-Fault Insurance and Other Insurance:
Other insurance criteria vary from state to state.
No-Fault Insurance.
If you live in a "no-fault" state, your insurance company will pay your claim regardless of who was to blame for the accident. Adjustments to your insurance coverage will be made if you suffer an accident in a no-fault state.
Do not assume that your insurance company will fund your claim in another state because you have no-fault coverage. No-fault insurance doesn't mean that your insurance company will foot the bill for your claim if you were not at fault in an accident that occurred in a state with no-fault insurance.
Security.
It's always possible to purchase more insurance than is required by your state. Increased insurance premiums are expected. If you cause an accident that results in serious bodily harm and long-term medical treatment, having additional coverage may be well worth the expenditure considering the high cost of medical care.
Getting a Fair Settlement For a Claim.
Insurance companies have a poor rap. However, insurance firms are obligated to operate responsibly regardless of where the accident occurred under the country's laws. Your claim will be accepted irrespective of where the accident occurred. As long as you have adequate automobile insurance, your claim meets all of your policy's requirements, and your claim is submitted promptly.
What Do I Do if I Get Into an Accident Outside of My State?
In the United States, you should always follow the essential car accident checklist.
First, make sure you and your passengers are safe.
The police and other emergency services should be contacted.
If possible, take photos of the damage and document them thoroughly.
Talk to the opposing team members.
Call your insurance company to inquire about your coverage.
Make an appointment with an experienced automobile accident attorney.
When you phone your insurance company, let them know that you're in a different state. Depending on your policy, additional costs, such as a tow truck, may be covered by your insurance. If you have questions about your insurance policy, your insurance provider can help you locate the nearest repair shop and address your issues.
Finally, get in touch with one of the best car accident lawyers in your area. There is nothing more frightening than being involved in a car accident outside of your comfort zone. To ensure that you have the most significant possibility of collecting compensation, you should always consult an attorney before advancing your case.
An accident outside of your jurisdiction might be frightening. If you feel like you're on your own, don't be afraid to ask for help. Immediately contact a Pittsburgh car accident lawyer if you've been wounded in an automobile accident caused by a reckless motorist.
What Are The Benefits Of Working With A Local Law Firm?
However, although you may already be familiar with a trustworthy attorney in your home state, it's better to work with an out-of-state company for any legal matter, including an injury automobile accident, to achieve the most significant outcomes. With a local attorney, you'll have access to a wealth of knowledge about state traffic laws and the statute of limitations and procedural concerns, as well as personal relationships with local insurance adjusters, defense attorneys, and judges. A local lawyer can also manage the legal aspects of your case while you are recovering at home.